Google Drive coming soon – free 5GB storage
Google Drive is coming soon it seems. Announced on Google Blog, you'll have 5GB free online storage space to upload, share and collaborate videos, photos, files and documents with others. Videos and photos will be instantly available to your Google+ accounts if linked apparently. Eventually, you'll be able to sync PC, Mac, Linux and both Android and Apple iOS devices with Google Drive.
Google Drive storage pricing link was hidden at the bottom of the page for folks needing more than 5GB storage space. Seems it's also tied in with Picasa and Gmail storage so when you purchased additional Google Drive storage, it is shared across Google Drive and Picasa and your Gmail storage automatically increases from 10GB free to 25GB free!
Google Drive PC & Mac syncing app
Google Drive PC & Mac apps allow you to choose what to sync on your computer with Google Drive. Currently, it's an invitation only service, so you need to receive an invite to be able to download and install it. It's explained here.
The Google Drive for your Mac/PC application puts you in control – you can keep or change the default syncing settings. Decide whether you want to sync Google Docs, all of My Drive or individual folders, and items in Shared with me.
Google Drive Security
Google Drive security is explained here.
The security of your data in Google Drive is a top priority. In order for a Google Drive app to access files in your Google Drive, you must install and authorize the app.
When you choose to open files with Google Drive apps, these apps may request access to all or individual files in your Google Drive. These permissions will be outlined when you choose to authorize the app.
Storage plan pricing
Store up to 5 GB in Google Drive, 1 GB in Picasa, and 10 GB in Gmail for free and pay for additional storage as your accounts grow. Here's how it works:
Tap into your free storage as soon as you start using Google Drive, Picasa or Gmail.
Purchase additional storage that can be shared across Google Drive and Picasa (free storage doesn't transfer across products). When you purchase additional storage, your Gmail storage limit will automatically be increased to 25 GB.
Google storage plans
Choose from the following monthly Google storage plans to be used with Google Drive and Picasa. When you purchase one of these plans, your Gmail storage limit will automatically increase to 25 GB. Yearly plans aren't currently available.
| | |
| --- | --- |
| Storage | Monthly Rate |
| 25 GB | $2.49 |
| 100 GB | $4.99 |
| 200 GB | $9.99 |
| 400 GB | $19.99 |
| 1 TB | $49.99 |
| 2 TB | $99.99 |
| 4 TB | $199.99 |
| 8 TB | $399.99 |
| 16 TB | $799.99 |
Looks like Google Drive Android app has merged with and replaced Google Doc app on Google Play Store as well.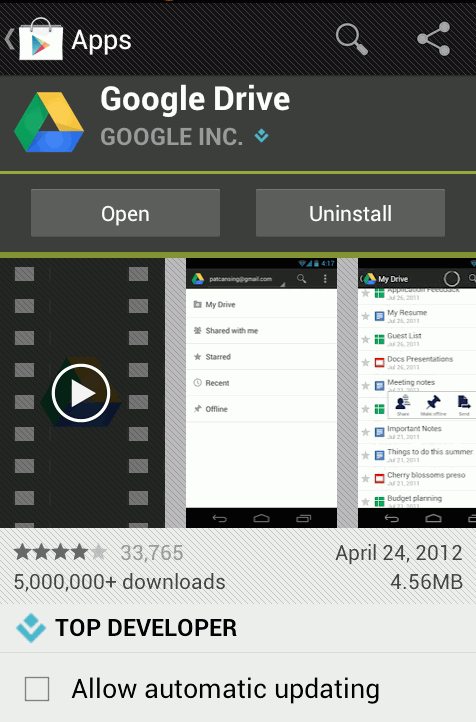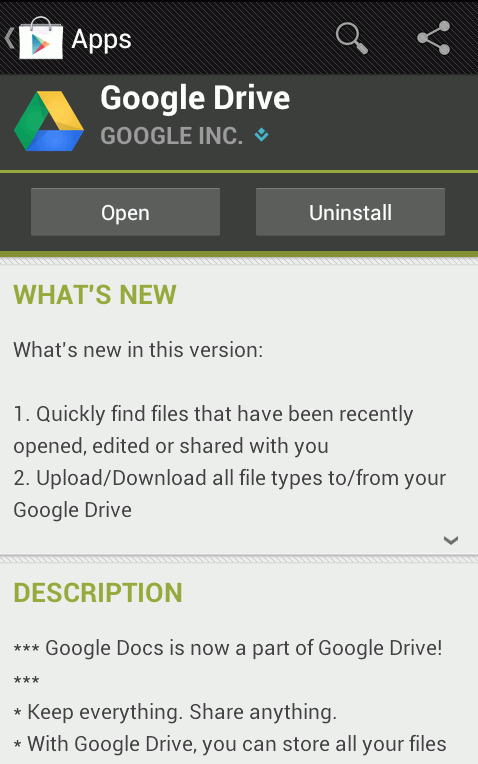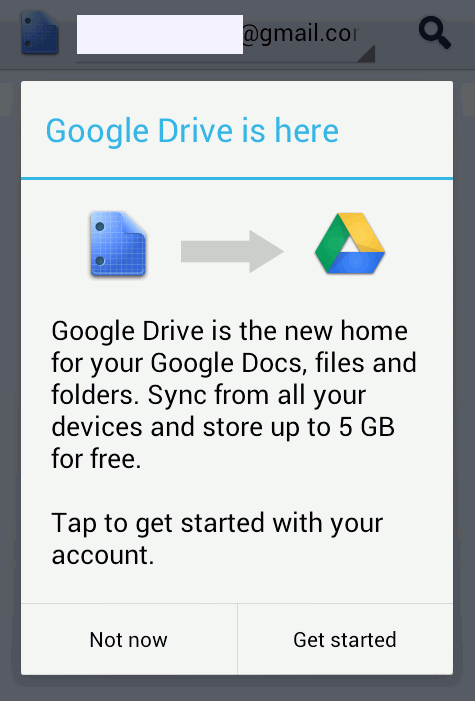 Google Drive online media coverage:
More online media coverage for Google Drive