Centmin Mod – 1st Year Anniversary !
Centmin Mod project celebrates it's 1st year (+5 days) since creation !  Time does indeed fly by when you're having fun and that's exactly what it has been for me while working on and expanding Centmin Mod project to what it is now (see change log).
I've learnt alot more about every software aspect bundled with Centmin Mod and bash scripting has improved too. There's now over 200+ followers on Centmin Mod project's Google+ page where I post Centmin Mod project specific updates for each release.
As Centmin Mod and mysqlmymonlite.sh projects have taken on a life of their own, I've setup dedicated categories on my site for them as well under the main Project category there is now a Centmin Mod and mysqlmymon.com category link.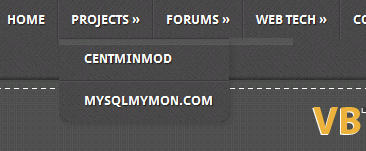 Creating a full menu based installer for CentOS to auto install Nginx web server, PHP-FPM and an alternative MySQL performance drop-in replacement fork, MariaDB MySQL has made my own life alot easier time wise for setting up and maintaining a dedicated and VPS servers with an efficient linux stack alternative to Apache web server's LAMP stack. I don't think I could live without my Centmin Mod Command Shortcuts these days and judging from the email feedback I get, there's plenty of Centmin Mod users who also feel the same way. I even find myself sometimes typing the command shortcuts on non-Centmin Mod servers by accident only to realise they don't work for those servers.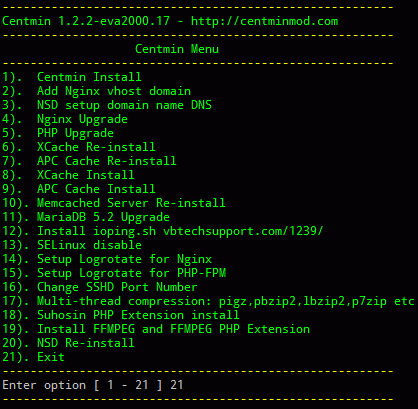 Centmin Mod Project's Future
The current version as of this article's writing is Centmin Mod v1.2.2-eva2000.17. So what do I have planned for future versions ? There's quite a number items on my wishlist but a few which are definite are listed below:
Centmin Mod Update notification
I've been playing with function to be able to check Centminmod.com web site for latest version number and auto notify the Centmin Mod user that a new version has been released. It's a function I originally started working on for future mysqlmymonlite.sh script versions.
Oracle Linux's Unbreakable Enterprise Kernel
The next version of Centmin Mod will have detection support for CentOS 6.x systems which decide to switch and update their linux kernels to Oracle Linux's Unbreakable Enterprise Kernel 2.6.32-300.25.1 or 2.6.39-100.7.1 (based on 3.0.16 linux kernel). You can read up on UEK builds at here. Already did a test run and Centmin Mod installs fine on CentOS 6.2 64bit system with Oracle Linux Unbreakable 2.6.39-100.7.1 kernel. Been running this test UEK kernel based local test server for several weeks now and looking good so far. I will also be using this test server base for vBulletin's next forum software version testing for vBulletin 5 Connect :)
MariaDB 5.5 MySQL server
Currently, Centmin Mod installs MariaDB 5.2.x branch by default, but I decided to skip MariaDB 5.3.x and go straight to better potential performing MariaDB 5.5 based MySQL servers in future. Of course, I'll need quite some time for testing MariaDB 5.5 before I add it into Centmin Mod project's core menu options.
Improve coding & functions
General improvements in the coding and functions etc with the aim to speed up install, upgrade and management time. My bash shell scripting skills have improved in the last 12 months but I am still learning and as such Centmin Mod project's underlying code has older less efficient code mixed in with more improved recent segments.
Add On Module support
Everyday, I get numerous requests to add certain software or features to Centmin Mod bundle and I've been thinking of making the script modular in a way to make it easier to add additional software or features. Whether these will be free or paid add ons, or a mix of them I haven't decided yet.
One module or feature I'm looking at is a account and server automated data backup script for files as well as MySQL databases. I already have one form of such backup script operating on Centminmod.com web site itself on it's 5x LEB VPS load balanced servers which all run Centmin Mod stack. Data is automatically backed up and transferred to a remote backup service provider on a daily basis with 10 day retention and rotation of back ups.
Centmin Mod bundle already includes the option for installing alternative and better performing compression and decompression tools such as pigz, pbzip2, lbzip2, and p7zip which may speed up backup compression times so if you're writing your own backup scripts you can already take advantage of better and faster compression methods.
So if you're a current Centmin Mod project user or interested in following updates, best place is to follow me on Centmin Mod Google+ Page or via Twitter.