Hard drive bad sectors – Spinrite v6.0 to the rescue
Past couple of days have been tiresome trying to fix my main work pc's OS hard drive – 640GB Samsung HD642JJ SATAII.  Symptoms included, no longer being able to complete windows 7 create system images – once i hit 161GB out of 320GB, the system would reboot at bad sector point.  Similar problems occurred with Paragon Hard Disk Manager Suite 2011 backup methods too getting I/O error unable to continue.  I tried chkdsk /f (well /r) if you run from within windows 7 to initiate a scheduled chkdsk on reboot. Windows reported fixed bad sector but retrying windows 7 creates system image backup = system reboot and Paragon Hard Manager Disk 2011 Suite results in I/O error unable to continue image backup still.  CrystalDiskInfo SMART output reported cautionary drive health with Current Pending Sector Count at 2 – a sign of bad sectors apparently.
Running Samsung ES Tool v3.01 reports LBA errors at 6215514 and 6215515 in Read Surface Scan test. This isn't the first 640GB Samsung HD642JJ SATAII drive that has reported such, but this time instead of reinstalling Win7 on a fresh drive, I wanted to try and fix the bad sectors to at least be able to clone image copy the drive to a new drive.  I tried Roadkil's Raw Copy but that didn't work, same system reboot during operation.
So I jumped on Google search and came across a well review favoured piece of software, GRC's Spinrite v6.0.  Spinrite proved to be my saving grace, after running Spinrite level 4 surface defect detection and repair for 13+ hrs, it came back reporting 3 unrecovered sector errors.  I rebooted into Windows 7 and using CrystakDiskInfo I compared my drive's before and after SMART output and to my surprise, drive health returned to good and Current Pending Sector Count was cleared!  So I loaded up Paragon Hard Disk Manager Suite 2011 rescue USB drive to attempt a hard drive image backup and guess what it passed without problem although took quite a while to back up ~3.5 hrs.  No I/O errors at all though.  I haven't got around to trying Windows 7 system image creation yet, but that is next on the books.
Update: Success! Can confirm Windows 7 System Image creation works fine now, can fully backup the system OS hard drive ~320GB of data without any problems. No rebooting!  Now to clone backup my hard drive as well – never can be too safe :)
Update 2: Successfully cloned 640GB Samsung HD642JJ to new 1TB Western Digital WD1002FAEX Black Caviar SATA 6G hard drive.
Spinrite v6.0 is definitely a tool to have in your toolbox!
CrystalDiskInfo before and after Spinrite v6.0 magic
I did remove Drive D before running Spinrite it was a dedicated swap partition.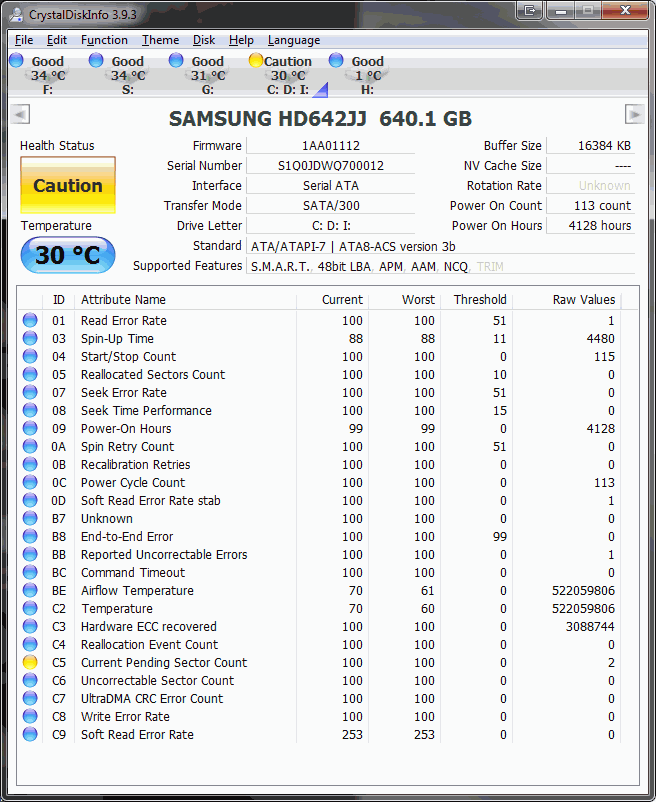 Newly cloned 1TB Western Digital WD1002FAEX Black Caviar SATA 6G hard drive – runs much hotter but faster too.